Key Facts
RPFB Project Finance Ltd. (RPFB) is an independent consulting firm focusing on organizing the financing of investment projects in Russia, CIS and Eastern Europe
RPFB is the successor of the advisory business of the Russian Project Finance Bank, established in 1992 by the European Bank for Reconstruction and Development (EBRD)
RPFB provides advice in the areas of project and corporate finance, M&A, direct investments
RPFB possesses over 29 years of experience working with leading international financial institutions and has assisted its clients in raising over USD 42 bln of debt and equity finance
Reputation and quality of RPFB advice are confirmed by authoritative international rewards
History
In 1992, at the suggestion of the Central Bank of the Russian Federation, the European Bank for Reconstruction and Development (EBRD), together with Russian partners, decided to establish and develop an institution in the Russian Federation that would provide investment banking services according to international standards. As part of this initiative, the Russian Project Finance Bank (RPFB) was founded in December 1992. Within a short time, the Bank has proved itself as an effective organizer of long-term financing of investment projects in Russia, the CIS and Eastern Europe. 
At the end of 1998, several of the Bank's senior executives came up with a proposal to spin off the corporate and project finance advisory business  into a separate company. This initiative of management buy-out was supported by the shareholders and clients of the Russian Project Finance Bank.
Since 1999 RPFB has continued to operate as partnership under the name RPFB Project Finance Ltd. Since then RPFB has taken part in a number of landmark transactions and investment projects (see Case Studies) and has been one of the pioneers of the introducing the project finance technique into the Russian market. 
Management
| | |
| --- | --- |
| Ruslan A. Vazetdinov | Managing Director, Partner |
Ruslan Vazetdinov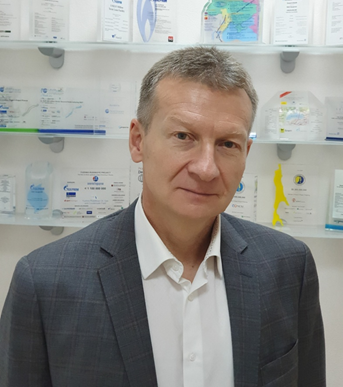 Mr. Vazetdinov is a Partner of RPFB Project Finance since its inception in 1999. He also holds a position of Managing director. From 1999 to April 2018 held a position of Executive Director
Ruslan Vazetdinov is responsible for maintaining relationships with key clients, promotion of company services, managing teams in the core projects. Specialization of Mr. Vazetdinov is raising financing in the energy sector. Mr. Vazetdinov has advised on over $36 bln of transactions. Mr. Vazetdinov led the advisory teams that worked on numerous Gazprom international loan facilities and investment projects, including Yamal-Europe, Blue Stream, Gaztransit, Sakhalin-2, Nord Stream, Yuzhno Russkoye, Shtokman, South/Turk Stream. He participated in several landmark M&A, asset swap, joint venture transactions of Gazprom with its international partners such as General Electric, ENI, Enel, E.On, BASF, Shell, Total, Statoil, Petro-Canada, Mitsui and others
Mr. Vazetdinov worked in Russian Project Finance Bank from 1992 to 1999 starting as a project officer and becoming Executive Director. Ruslan Vazetdinov was responsible for development of the advisory business in energy sector, which resulted in a number of mandates and closed financings. His client list includes Gazprom, RAO UES, Amoco, GE Power Systems, Dresser, Mitsui, Marubeni, ABB, European Gas Turbines
Prior to working in finance held a position of research engineer and research officer in National Research Nuclear University MEPhI
Mr. Vazetdinov has a degree in computer science from Moscow Engineering Physics Institute – MEPhI (1987), London Business School – Foundation Program Certificate in finance (1994), MBA in Business & Economics from California State University Hayward (1996), bachelor degree in Management from Institute of Business and Economics in Moscow (2005)
Vacancies
THE POSITION:
The Firm is currently seeking PROJECT MANAGER to join the project finance practice.
THE REQUIREMENTS:
The Firm welcomes applications from persons with relevant university degrees who also possess:
at least two-year professional experience in banking, consulting and/or investment analysis;
excellent financial modelling skills, deep knowledge of structuring of project finance transactions and economic valuation;
computer literacy;
practical experience in preparation of business plans, analytical reports, valuations and information memoranda;
understanding of the international financial market and front line participation in project finance transactions is a plus;
fluent English.
JOB DESCRIPTION:
development of financial models, economic and sensitivity analysis;
financial and economic analysis of investment projects;
preparation of presentations, information memoranda, business plans, credit applications;
monitoring of credit applications;
arrangement of due diligence and independent expertise;
participation in business meetings and negotiations.
WE OFFER:
highly creative and challenging environment;
access to clientele base of top Russian and international corporations;
participation in high profile projects;
competitive salary commensurate with the applicant's experience and skills;
result oriented bonuses.
RPFB creates necessary conditions for employees to develop themselves and build a successful career. RPFB, especially at the beginning of its operations, when economic education in Russia was not so developed, served as a veritable forge of qualified financial personnel for the banking sector and various industries. RPFB "graduates" work/hold senior positions in such institutions as Sberbank, VTB, Gazprom, Lukoil, Nornikel, Megafon, Rosatom, Aeroflot, RAO UES, OMK, as well as ABB Product Structured Finance, Barclays, BNP Paribas, Citibank, Deutsche Bank, ING, SMBC and others. This allows RPFB to have stable business relationships and exchange experience with industry leaders, and, accordingly, to monitor market trends, to offer innovative / effective financial solutions to its customers.