Blue Stream – Project Finance (2000)
Blue Stream Project is a unique transaction in terms of complexity and innovative nature of financial solutions realized in difficult market conditions. The Project was developed immediately after 98 Russian financial crisis, when international financial markets were practically closed for the Russian corporates. Nevertheless, circa US$ 3 bln debt and equity funds were raised for the Project. Blue Stream financial structure contains all classical elements of project finance technology creatively applied to specific Russian conditions. We believe that lessons learned from this deal serve for the successful financing of a number of later large investment projects in this market.
Below we summarize main facts, features of the structure and issues which were addressed.
The Project envisages construction of the gas pipeline from Russian to Turkey under Black See. Total length of the pipeline is 760 km. Maximum depth of the offshore pipeline – 2,150 m. This route is 980 km shorter than an overland pipeline and allows to avoid transit fees and unauthorized off takes.
Blue Stream Offshore Section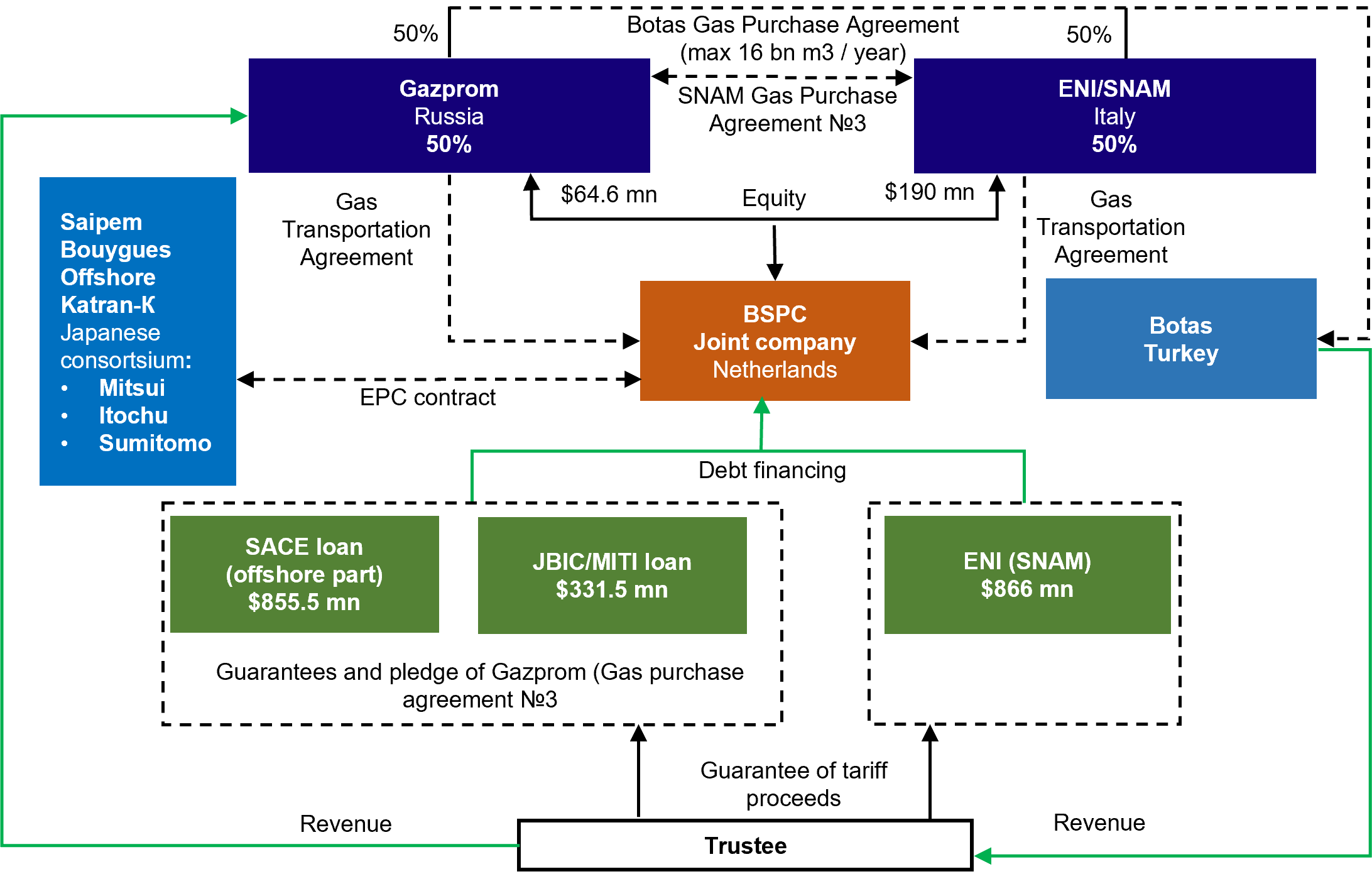 Blue Stream – financing structure
Offshore section is implemented as a joint project of Gazprom and Italian ENI/SNAM. Participation of the reputable foreign investor produces basis for the project financing structure and creates additional comfort for the lenders. We would like to highlight the following key /innovative features of the structure:
100% coverage of investment cost using multi-source debt/equity financing
tailored transportation tariff – no market risk, RoE predefined by the partners, sponsors' economics defined by net-back gas price
financial swap – use SNAM untied funds to cover Gazprom financing costs in exchange for increase of ECAs covered financing
increase of credit capacity of available security using "heavy tail" debt amortization profile
common security for several group of lenders – resolution of inter-creditor issues
stable preferential regime through legal structuring and official support, including Russian-Turkey Intergovernmental Agreement and Tax Protocol, Dutch tax ruling, Russian Government Comfort Letter; Central Bank License
resolution of Russian currency conversion issues – escrow account structure and Opinion of Legal Department of Presidential Office